Thanksgiving Pet Safety Tips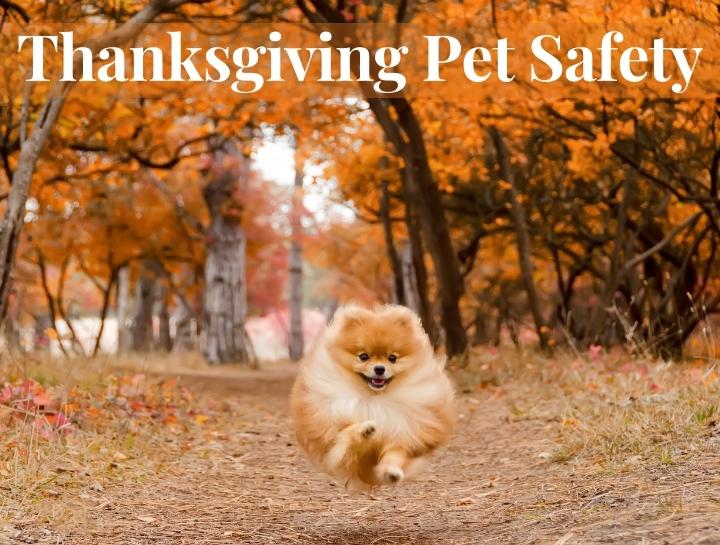 November 20, 2023
Thanksgiving provides an opportunity to gather and spend time with everyone in your family, including your pets! Show your pet you're thankful for them with these safety tips to keep them happy and healthy during the festivities.
Say No To Turkey Treats
While it may be tempting, do not give your pets turkey on Thanksgiving. It can cause intestinal upset and some seasonings and dressings have potentially toxic ingredients. Undercooked or raw turkey may contain dangerous bacteria, such as salmonella. Do not give your pet the leftover carcass or any bones either as it can upset their digestive tracts, cause perforations in the GI tract, or cause intestinal blockage.
Garlic, Onions, Leeks, & Chives, Oh My!
These seasonings are present in many Thanksgiving foods like vegetables, stuffing, and gravy. They may taste delicious to us, but they are toxic for your pets and can cause the destruction of their red blood cells. Avoid giving your pet anything cooked with these ingredients.
Dangerous Desserts
Do not feed your pets any of your delicious desserts. If you plan to bake desserts this Thanksgiving, it's also important to keep your pets away from the batter, especially if it contains raw eggs. This could also contain salmonella bacteria that could result in food poisoning. Chocolate is toxic for dogs and cats—so are raisins, currants, and the sugar substitute, xylitol. Be sure to keep all desserts out of your pet's reach.
Bread Dough is a No-Go
Raw yeast bread dough is a no-go for pets. If a cat or dog ingests raw yeast bread dough, the yeast continues to turn into carbon dioxide gas and alcohol, resulting in a potentially life-threatening emergency that could require hospitalization.
Have a Furry Friends Feast
While you enjoy your meal with your friends and family, give your pets something special of their own. Whether it's a toy or a treat, your pet will be thankful they're safe.
We wish you all a very happy Thanksgiving! We are thankful for the opportunity to care for your pets.
If you have any questions or would like to schedule an appointment, call (973) 467-1700.